Motorcycle carburetor does not absorb fuel how to do?
1.Alcohol cleaning. The lack of fuel in the carburetor float chamber may be because the fuelintake channel is blocked, and you can use alcohol to clean the blocked part to make the fuel enter smoothly.
Repair the device. If the starting thickening device fails, it may also cause the motorcycle not to absorb fuel. At this time, you can find out the fault and repair the thickening device to solve the problem.
Adjust the screw. Adjust the adjusting screw of the carburetor plunger, rotate clockwise, the speed increases, the carburetor will start to absorb fuel.
Adjust the starting method. If the starting method is not correct, it will also lead to the carburetor does not absorb fuel, need to adjust the starting method to let the carburetor absorb fuel.
Clean the air inlet. It may be that the carburetor air inlet is blocked, so it is necessary to remove the filter element and spray a small amount of cleaning agent several times until the exhaust pipe emits black smoke.
Remove and clean. If the carburetor is really difficult to clean, you need to remove it, scrape the dirt with tools, clean it with gasoline, and then install it again.
Reinstall it. There may be installation problems such as mismatch between carburetor and filter or interface error, which need to be reinstalled to solve.
Go to the repair shop. Send the motorcycleto the repair shop, after careful investigation to confirm the fault, and repair.
Carburetor is a mechanical device that mix the air and gasoline into a certain proportion under the vacuum produced by engine operation. Its atomization effect will directly affect the combustion state of the motorcycle, which will also affect the acceleration performance of the motorcycle.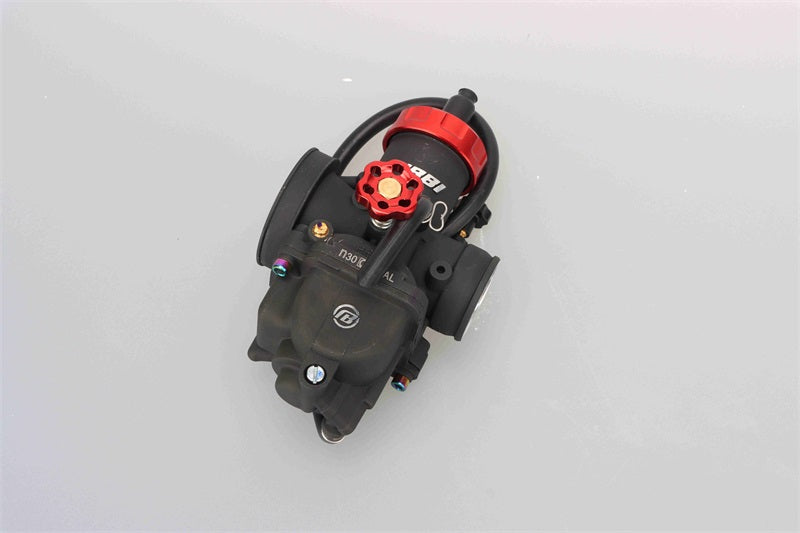 ---